QUTy Development Board
QUTy is a development board based on the Microchip ATtiny1626 AVR microcontroller. It is designed specifically to teach microcontroller programming in the course CAB202 Microprocessors and Digital Systems.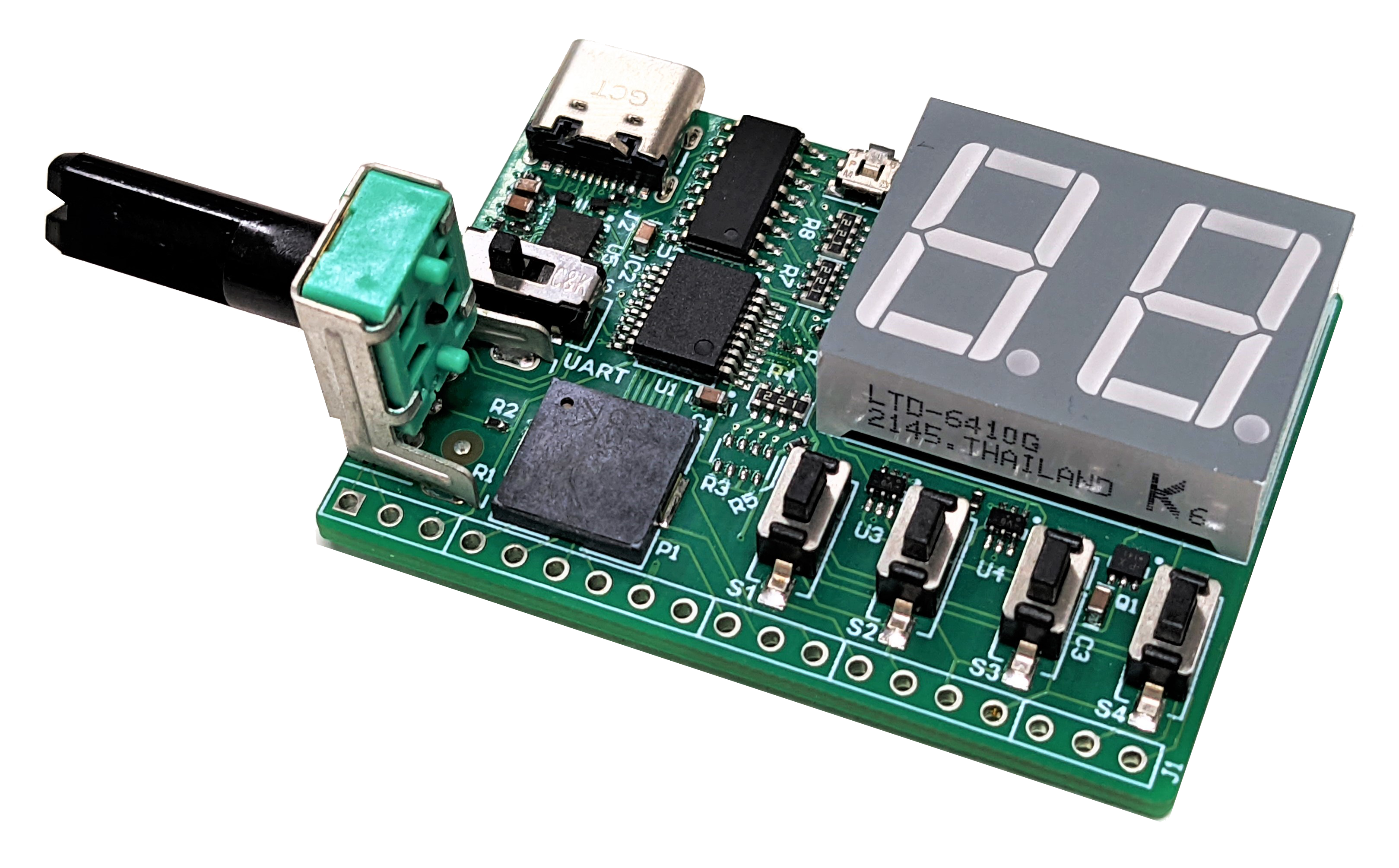 Features
Microchip ATtiny1626 microcontroller (16 KB flash, 2 KB SRAM)
USB-C interface for power, programming (UPDI) and serial communications (UART)
4x pushbuttons
Piezo buzzer
Potentiometer
2-digit, 7-segment LED display
Expansion header for socketing into a breadboard
For further detail, please refer to the QUTy-V01 schematic.
Development environment
Development for the QUTy is supported via PlatformIO. We recommend using the PlatformIO IDE for VSCode which is available for Windows, MacOS, and Linux.
Usage
Install Visual Studio Code
Install the PlatformIO extension for VSCode.

If you do not already have a Git client installed on your system, install Git. For the Windows installer version, the default pre-selected installation options are appropriate and can be left unchanged.

Install the QUTy platform via:

 PlatformIO Home > Platforms > Advanced Installation > https://github.com/cab202/quty


Create a PlatformIO project and configure the QUTy platform in the platformio.ini file:

 [env:QUTy]
 platform = quty
 board = QUTy


OR, open an example project (see below).
Drivers
Depending on your system, you may need to download and install the Silicon Labs CP210x Virtual COM Port (VCP) drivers in order to be able to programme the QUTy, or use the serial monitor feature.
Examples
A number of example projects are available as part of the platform. These can be accessed via:
PlatformIO Home > Platforms > QUTy > Examples

quty_blinky_c
quty_blinky_asm

1 Hz LED flash, in Assembly.

quty_blinky_asm_bare

1 Hz LED flash, in Assembly (without startup code).

quty_serial_helloworld

Serial monitor/stdio example (prints "Hello world!" on key press).
Contact
QUTy is designed and maintained by the Queensland University of Technology (QUT), based in Brisbane Australia. Please direct enquiries to cab202.enquiries@qut.edu.au.
Copyright © 2022 Queensland University of Technology (QUT). All rights reserved.